The Guesthouse
In the beginning of the 20th century, there was a farm called Hof located in the area of Snæfellsnæs. The farm was abandoned in the middle of the century because of the strong winds making a lot of sand circulating in the air and around the house. Where the farm once was standing, you nowadays find the wooden Guesthouse Hof just a few hundred metres from the beach.
The house is 400 square metres big and is divided into 5 flats, which all consist of a kitchen, a living room, a bathroom, a sleeping attic and three or two bedrooms. You can rent a whole apartment, or just a bedroom and then share the common areas with other guests.
In the summer of 2012, we started building a couple of cottages in different sizes. Each cottage has a separate entrance and two rooms, out of which one is a small bathroom and the other a bedroom with space for a table with chairs as well.
House 1: our family's home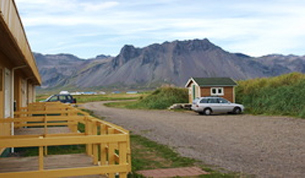 House 2: 12 pers
House 3: 11 pers
House 4: 10 pers
House 5: 6 pers + dining room
House 6: 6 pers
Small cottage: 2 pers
Large cottage: 2 pers
Large cottage: 3 pers